While preparing the launch of my website, I have also set up an Etsy store! How much fun I am having!!!

I have been super busy and haven't updated my blog recently, so I'm getting back on it!

Here's a new item!

Vintage 1960s GLAM MOD Silk Formal Shift A-Line Dress/Gown in Robins Egg Blue with Bows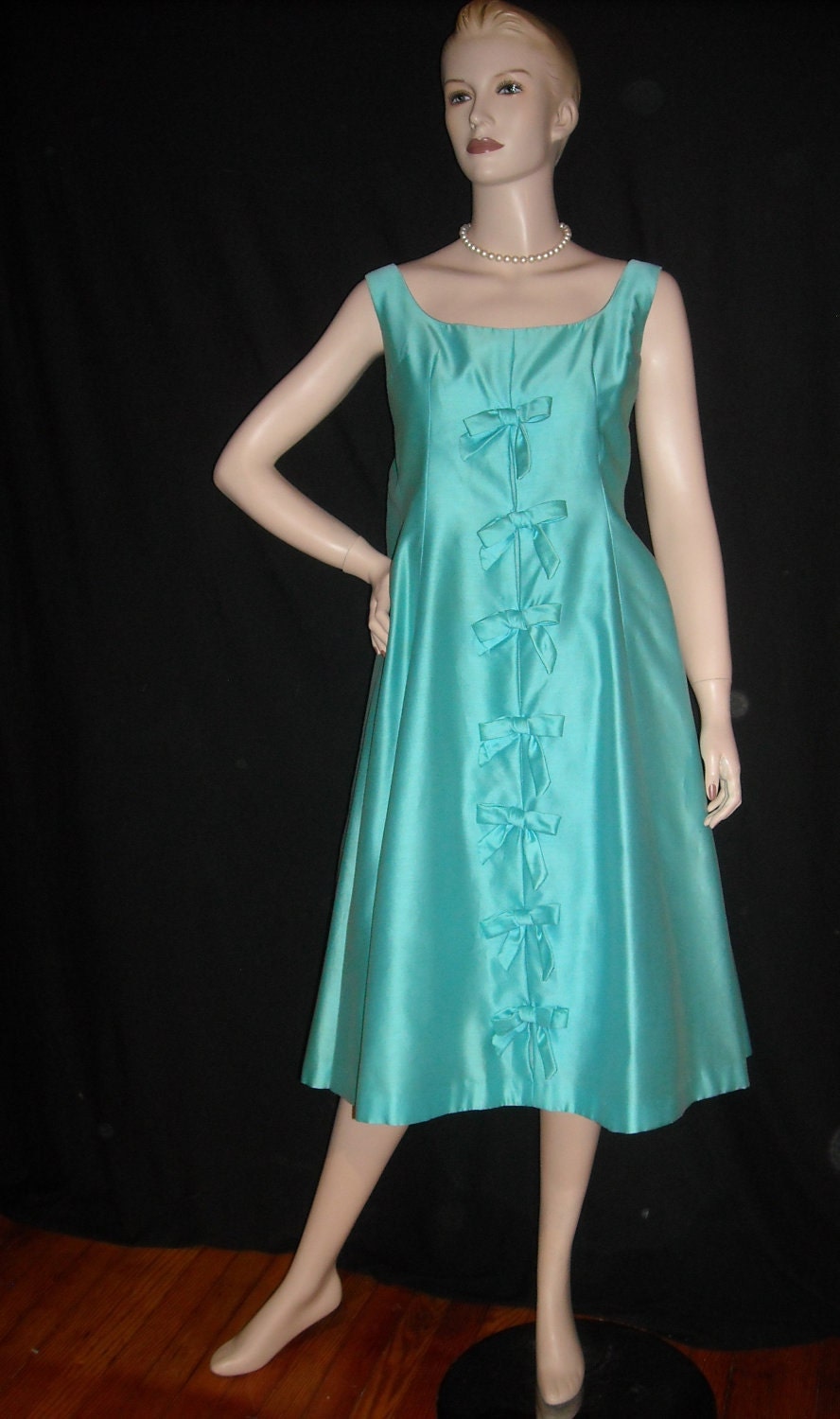 This is a charming 1960s shift or A-Line dress in Robin's egg blue in Vintage Size 10.
This dress is adorned with seven matching bows which go down the front center of the dress. The back of the dress features a pleated design to the upper back area. The dress is lined above the waist on the inside.
Closure for the dress is by a metal zipper and hook-and-eye up the back. The bow around the waist closes by metal snaps and hook-and-eyes underneath at the front. On the inside of the dress is a piece that wraps the bust area to hold up the dress with three hook-and-eye closures - the middle closure hook needs stitched back on at one end.
Sizing is approximately: Bust (on the inside closure) 30/31" Bust (on the outside seam to seam) 33/34", Waist 27, Back Length 35", Front Length 36"
As far as condition goes, I would say this is in good condition.
This dress just returned from a trip to the dry cleaners!
The ONLY imperfections I have found on this dress are two teeny pin-head sized rust stains on the back of one of the shoulder straps. Additionally, (and the reason I'm pretty sure this is silk) under each of the arms, at the armpit, the fabric has a small section of shredding (not uncommon for vintage silk) about 1" long. Additionally at the bottom back, at the left seam there is approximately a 6" long (up/down), about 1" thick section of shredding. Neither of these is really noticeable and wouldn't be so if the dress was being worn. I got the best picture that I could of the largest section.
The dress comes pressed from the dry cleaner, spotless and free of any lingering "vintage smell"! It smells fresh and clean, pressed, and ready to wear the moment it arrives!
I cannot find a designer label, but I did locate a union label inside (see photos).
GORGEOUS! (note: This dress is modeled over a crinoline skirt. Not included)