So I have officially had a store on Etsy for 11 days now. I could never figure out the hype with Etsy, though my best friend has been selling her hair accessories on there for years now. But I finally figured it it:

ETSY IS FUN!!
Seriously, I feel like I'm back in art school again. I get to network with other artists and see what they have been creating. It's like Facebook... but funner... and it pays! :)
And it's so simple to use. Why wasn't I on Etsy sooner?! The only thing I shake my fist at Etsy for is that I got really excited to see that an app for Etsy came out for the iphone only to discover that it apparently doesn't work on crotchety old iPhones like my ancient 3G to which it just tells me it is "incompatible." Poo.
I am still continuing to sell some on Ebay as auction-style listings have many benefits, and it also allows my items to be seen by a wider audience, but sadly Ebay has been hiking up its fees like crazy lately. And Etsy has way more of a cozy community vibe than Ebay could ever have.
Also, my remodeled website is nearing completion. I saw a working draft of it yesterday and all I can say is it is AWESOME. I'm so very excited! :)
Below I am going to show some nice new listings I have on Etsy & Ebay... but FIRST, I want to show off the awesome pic that my hubby took of me and my chicken, "Daphne" (taken on his newly born iPhone 4-whatever sparkling showoff phone. If only my husband would start drinking, I really think I could convince him to trade phones with me.)
She's so pretty. She's a rare Ohio Buckeye Chicken. Once we get the farm I'm going to get more Buckeyes! I seriously think she could qualify as a show chicken. Her coloring is STUNNING.
I don't think I have sported the turtleneck-sweatshirt look since about 1992 but this was taken right before we were leaving for Thanksgiving dinner and I wanted to cover up my cream colored sweater so as to not to take a chance of showing up at the in-laws covered in chicken shit.
As I mentioned above, I wanted to post a little about my newly listed items for sale. Currently I have up for auction at Ebay:
This dressing gown features a lovely and bright botanical print in pink, yellow and green an empire waistline. The gown is trimmed with yellow grosgrain ribbon around the waist and neckline. Additionally, a smaller pink velvet ribbon wraps the waist.
At Etsy you will find: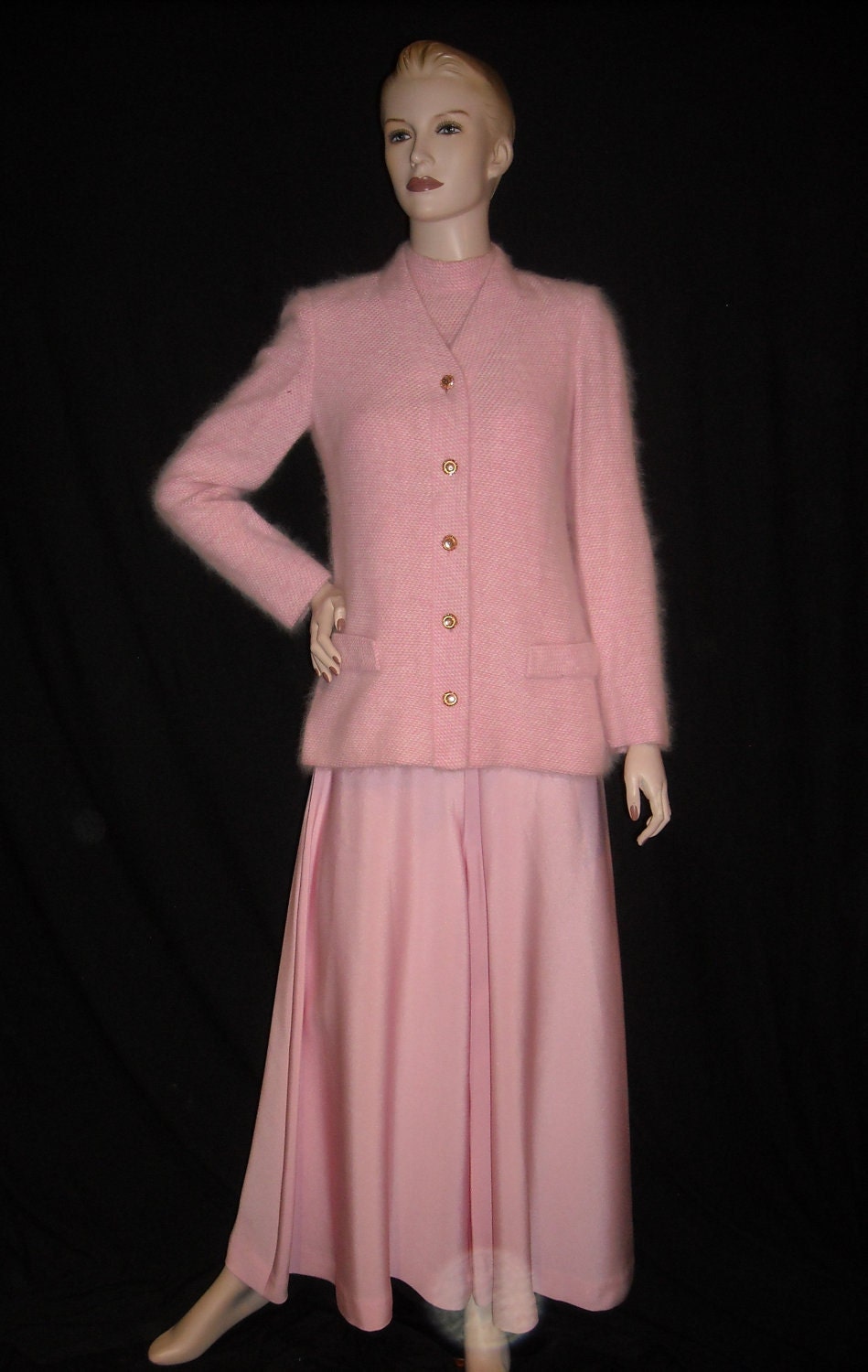 This is a PHENOMENAL soft pink angora/mohair knit pant suit/jumpsuit in EXCELLENT CONDITION.
This two piece set features a bright pink sleeveless jumpsuit made of super soft and luxurious knit pink and white angora.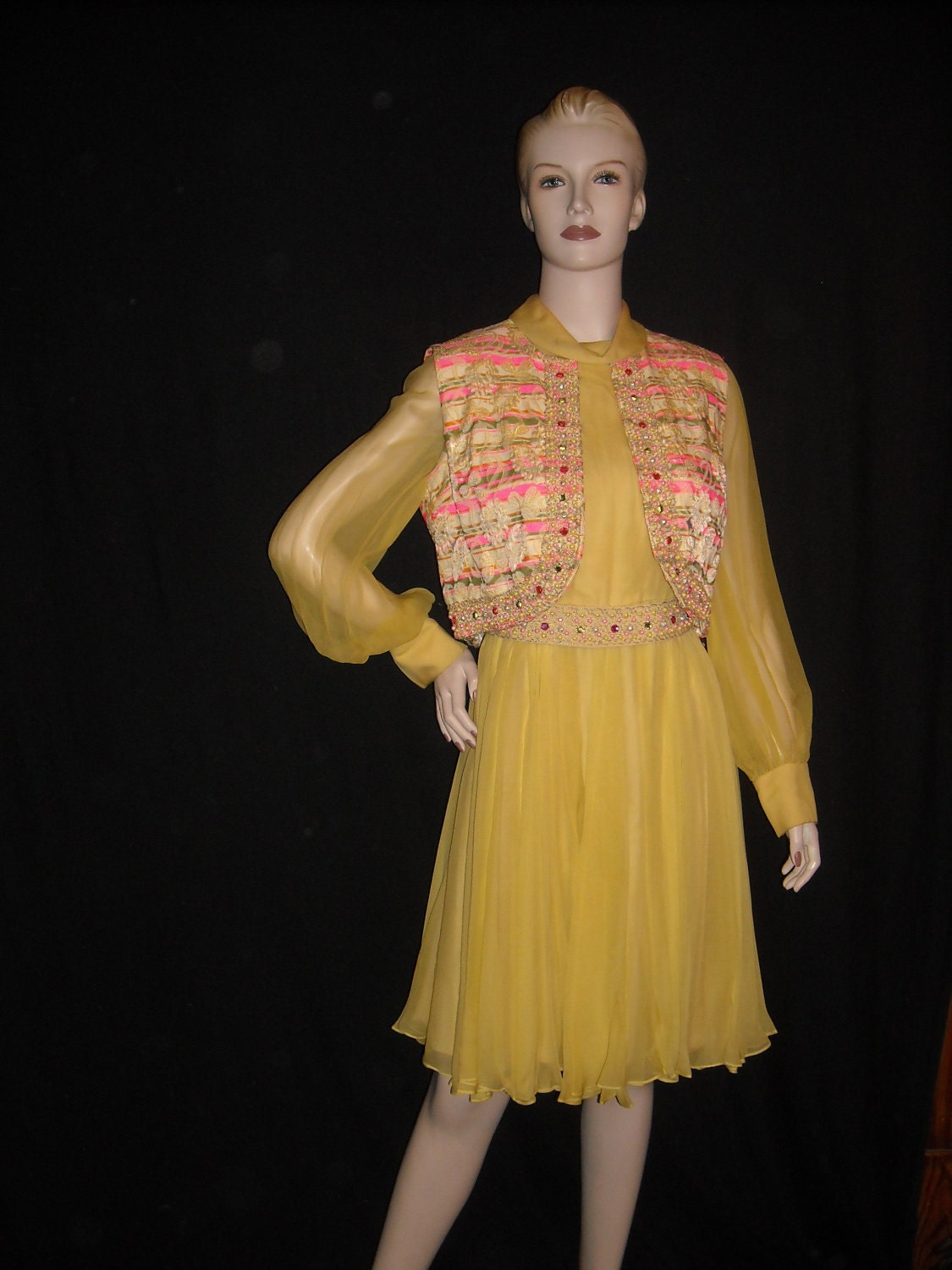 This is a GORGEOUS bejeweled sparkling sunshine yellow floating chiffon 2-piece dress in technicolor!
This dress features a bright yellow chiffon dress with billowing sheer sleeves, and frilly chiffon skirt. The dress is lined in light yellow.
Two small yellow strings at the waist support a 1.75" wide leather-backed belt which is covered in pink and yellow rhinestones pearls, beads, and gold thread.
A matching vest completes the look. The vest features a super kitsch pink, green and white vest with a floral pattern with gold threads. The trim edges of the vest are bejeweled to match the belt.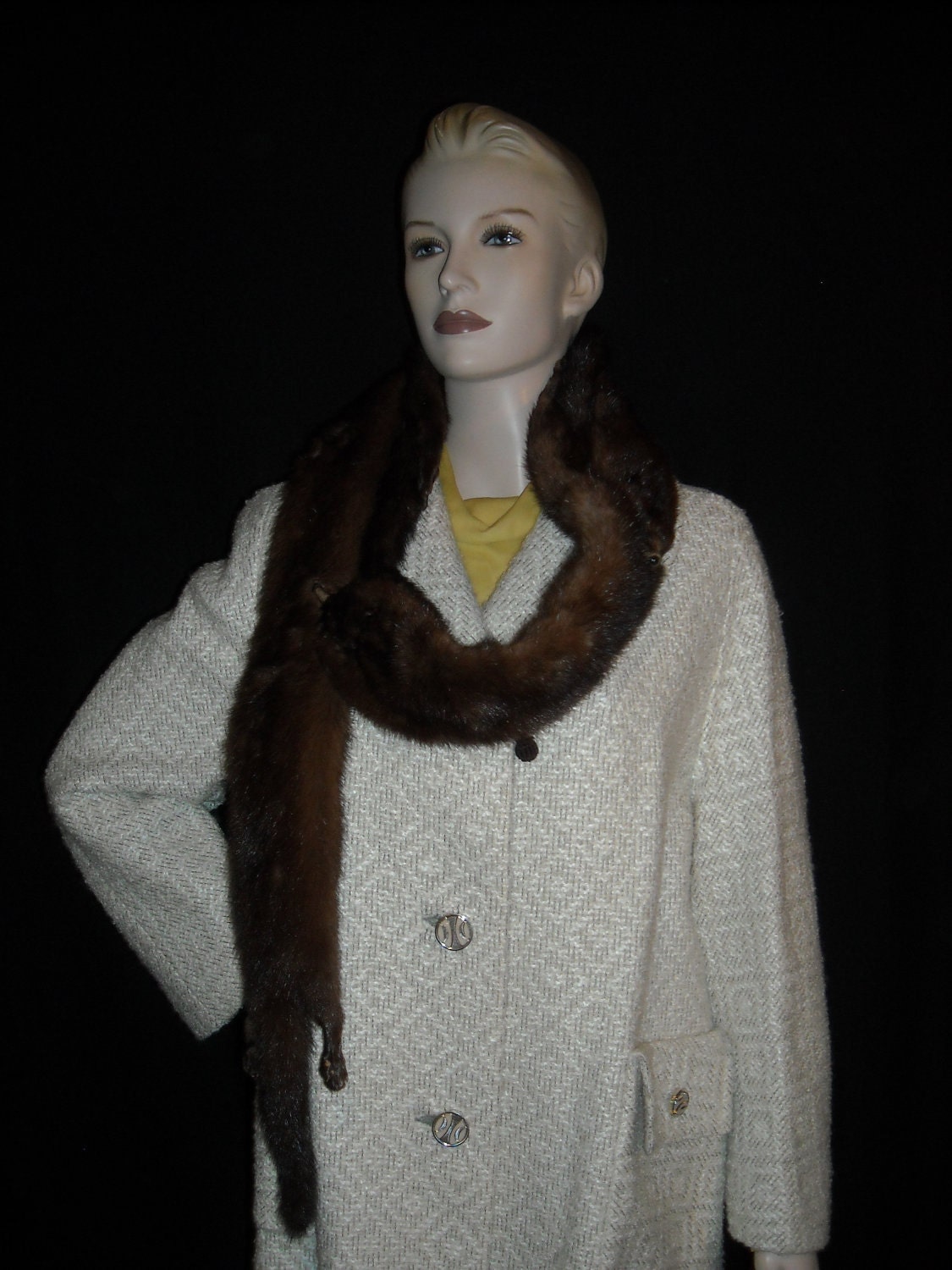 This is a GLAMOROUS real brown mink winter fur wrap scarf!
Authentic Vintage Mink Fur
High Quality, Real Mink From around the 1940s