The Kitsch:

Cow Nipple Dress By Rachel Freire Sparks Controversy At London And Paris Fashion Week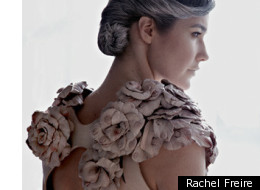 I love all 3,000 of my nipples, and would happily donate my own body to be used as art by a responsible individual," she told The Huffington Post
Oh where oh where do I start? I am trying to think of ways to work the quote "I love all 3,000 of my nipples" into casual conversation this week. I think it's nice that she feels the cows voluntarily donated their nipples to her art, and I'm so glad that she's willing to donate hers in return.
Lady Gaga's Fashion Director Plans to Sell Virtual Clothes For Real Money
Uhhhhh...what? Oh wait... it's Lady Gaga.
Royal fashion clash as Thai princess stopped from talking to Princess Beatrice
Like seriously? No... I mean seriously? Wait, did I put this link under "kitsch"? I meant to file it under "bitch".
The Vampire Look Just Won't Die
"Yeeaaaaeah," said Jared Leto, for some reason this season's Fashion Week mascot, when he saw Karolina Kurkova dancing in a white Givenchy suit with black streaks in her hair. She didn't acknowledge him. He asked Terry Richardson if he was hungry. They moved on.
KANYE WEST TELLS FASHION CRITICS TO 'SHUT THE F--- UP'
I went to art school. The first darned thing you learn in art school is HOW TO TAKE CRITICISM. You take criticism and you grow and get better from it. Kanye, an "artist", doesn't seem to grasp this concept. If he is unable to take negative criticism and learn from it, then he needs to find another business, because he seems to have no problem dishing it out.
Had he had more class where that poor Taylor Swift was concerned perhaps so many critics wouldn't be mocking his failure and the whole thing would have blown over. Or perhaps she should have told him to "shut the f--- up" since he apparently seems to think that's appropriate.
Can he not afford a good publicist?
The Vintage:
50 years of LBD style
"As a person, anything she touched, clothing, fashion, movies, was a hard act to follow - she had incredible taste. She arrived in an era when style really was a beautiful thing."
AGREED.
Fashion for the ages on parade
awww... it doesn't get any more vintage or any cuter than vintage ladies strutting down the runway at their church in the clothing that they wore as teenagers.
Mod Clothing and Vintage Style
"Mod clothing is something that started perhaps more than 50 years ago that became the trend back in the 1950s to the 1960s. Of course mod clothing are returning and better than ever, the same goes with vintage clothing which is becoming the mainstream today."
Elie Saab spring 2012 Paris Fashion Week handbags
"The combination of early 1990's tonal dressing and 1970's silhouettes created a modern twist to the vintage vibe of the overall collection."
Fashion Blog I'm Reading Today:
Down Coat Blog
A blog "dedicated to celebrity outfits"
Coupons/Links
Shop ModCloth's
Sale Section to Find Your Fave Indie & Retro Styles at 25% Off! Offer Ongoing
FASHIONPHILE - Vintage, Limited, Rare Luxury Bags
Free People Exclusives
"
Discover the Ultimate in Graceful Feminine Temptation Visit Zmilelee.com and Get Free Shipping ON All Orders",