The Vintage:

Fashionistas Become Auctionistas

"The inaugural auction, which will take place on October 18, 2011 will offer 65 vintage handbags with designer labels such as Hermes, Chanel, Prada, YSL, Gucci, and Judith Leiber to name a few, all without reserves. The category will continue to expand with plans for an exclusively Louis Vuitton auction followed by a vintage Chanel auction next on the calendar."

High style for a low price

"It's great if you can buy those investment pieces but if you're really trying to keep up with the trends and style outfits, wear colour and this and that, you are going to buy something that lasts in terms of trends ... a year at most."

Seventies Fashion Makes Big Comeback For Fall

"The "feelin' groovy" fashions of the 1970s have re-appeared in women's clothing stores, reincarnated into highly wearable, fun, modernized versions."

Fall Fashion Must-Haves in Eagle Rock

"From chunky sweaters to polka dots to leather detail, the hippest fall fashion trends have jumped straight from the runways and into neighborhood clothing boutiques."


Hmmm... I wonder if my husband would let me jump over his head in a pencil thin skirt that goes to my calves... and I think that blond girl really fell...
The Kitsch:
Hello Kitty hits the catwalk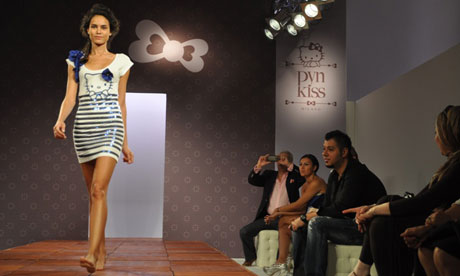 This is the launch of the high-end luxury clothing line, Pynkiss. But the brand features the unmistakeable insignia of Hello Kitty in an assortment of themes on its clothing – a first for the trademark.
What I find most frightening about this is that the dress actually is pretty darned cute.
The Couture
:
Friday Fashion: Iconic fashionistas design spring
"The month-long Spring 2012 fashion utopia, where editors, photographers, retailers and celebrities jet set to New York, Milan, London and Paris wrapped up Wednesday after defining major spring trends, styles and colors."
"One girl's cabinet of curiosities."
Coupons/Links
Shop ModCloth's
Sale Section to Find Your Fave Indie & Retro Styles at 25% Off! Offer Ongoing
FASHIONPHILE - Vintage, Limited, Rare Luxury Bags
Free People Exclusives
"
Discover the Ultimate in Graceful Feminine Temptation Visit Zmilelee.com and Get Free Shipping ON All Orders",